Alright, here we go! Grab your pen, and paper. Get ready for some yummyness here this week! I will be doing a post a day on my favorite foods. Oh, what a challenge. I will be sharing some recipes, and keeping others safely locked in the family vault ;) If I don't post one you want ask me. If it's one I can't give out, I will find one that is similar for you. Even if I don't post the recipe you will have lots of ideas. Promise!
So are you ready?
Today is....SOUPS!
How much do I love soup? It is the best comfort food, well it ranks with mashed potatoes, mac and cheese, and sweets. Those fall and winter days when the cold chills you isn't it wonderful to sit with a hot bowl of soup? Yes, yes it is. I love the whole process of soup. The chopping, browning of meat, the spices. Yum, I can almost smell it now. Oh yes the smell of soup slow cooking is such a wonderful thing to my nose. Then there is the dipping...bread oh bread, well we will get to that later.
My all time favorite soup is Irish Stew. So many flavors that play on your taste buds. I have experimented with this more than any other soup.
Next we have Zuppa Toscana. Ever been to Olive Garden? I have a recipe that will compare so well it will knock your socks off. Here you go:
1 lb ground Italian sausage
1½ tsp crushed red peppers
1 large diced white onion
a few pieces of bacon

many cloves of garlic

10 cups of chicken broth (bought or made with bullion, your choice)

1 cup heavy cream
1 lb sliced Russet potatoes, or about 3 large potatoes
¼ of a bunch of kale, although I love it and add almost the whole thing!

Sauté Italian sausage and crushed red pepper in a large pot. Drain excess fat, refrigerate while you prepare other ingredients.
In the same pan, sauté bacon, onions and garlic for approxiamtly 15 mins. or until the onions are soft.
Mix together the chicken bouillon and water, then add it to the onions, bacon and garlic. Cook until boiling.
Add potatoes and cook until soft, about half an hour.
Add heavy cream and cook until thoroughly heated.
Stir in the sausage.
Add kale just before serving.
Delicious, severs 6-8.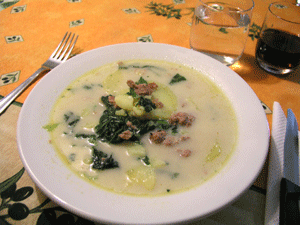 The next, most perfect soup I am going to share with you is:
White Chicken Chili
This soup is so good. It can be made two ways. If you make it in a crock pot you will have a yummy broth, but if you put it in a dutch oven it will be a thicker creamer soup. I personally use a dutch oven. I love the creaminess.
Also, I don't measure things a lot so when I pulled this out to copy here I did not have any measurements written down, these are all approximates.
This is another one of those recipes that can be adjusted for your family's taste. You will need:
Olive oil
One or two large onions
Lots and Lots of garlic...I'm talking like a ton
Jalapenos~when I use these I only put in one or two fresh that I have removed the seeds and chopped.
1 can green chili peppers

Minimum 2 Teaspoons Cumin, I put it Tablespoons of it!

Approximately 1 teaspoon of oregano, and cyanne
About 1/2 teaspoon of crushed red peppers

6ish cups of chicken broth...you can use up to 8 cups.
Chicken, cooked and cut up, at least a pound.

Great Northern Beans~I use a full bag of dried and soak them the night before. If you want to use canned I think you would need about 3 cans
Salt and pepper to taste
Monterrey cheese. Use as much as you want~I use a full bag usually, but most recipes call for one cup. Just make sure you put it in far enough ahead of time to melt down and not clump.

Saute onions, and garlic in dutch oven
Add the rest of the ingredients, except the cheese.

A while before serving add cheese.
Best when served with homemade french bread to dip in it. (Recipe to come)
On we go! Ready for some Minestrone? I have rarely made this, but I love throwing it together when we have nothing left in the house. Usually these ingredients will be on hand.
olive oil
1 onion
a few cloves of garlic
6-8 cups of broth-your choice

a few chopped carrots
1-2 stalks chopped celery

Several teaspoons of Italian seasoning or oregano, parsley, basil

a sprinkle of rosemary, and thyme

I also use Mrs. Dash tomato, basil, and garlic seasoning
Beans~Most recipes use white beans, but I use black and it is just as good. I use dried that I soak over night, you can use canned, (1-2 cans depending on how much you like beans). Just remember to rinse them as most of the gasses are in the juice
small pasta
1-2 cans of diced tomatoes
zucchini cut into small bit size slices

Parmesan cheese to garnish
Most minestrone soups are meat less but I like to add meatballs, I cut them in half. You can also used ground meat or anything else you have on hand. :)
Saute onion, garlic in oil.

Add carrots, celery, seasonings, and about 1/2 the broth. Boil about 15 ish minutes
Add Beans, tomatoes, remaining broth, zucchini, and noodles. (This would also be the time to add the meat)

Cook until noodles are just hardly done. If you cook any longer the noodles will turn to mush as it sits. Check seasonings and adjust.
Garnish with Parmesan cheese.
Note: Many people also put in spinach. I have never done this but would like to try sometime, just thought I would pass that on.
Ok. Last one, my goal was 5. My husband just got home, so I will leave you to dream about his favorite soup: Ham and Bean. I make it spicy, so this is what you want to eat if you need your sinuses cleared out!!
Well, have fun making soup. Come back tomorrow for more tasty ideas, and don't miss the french bread to dip in your soup!